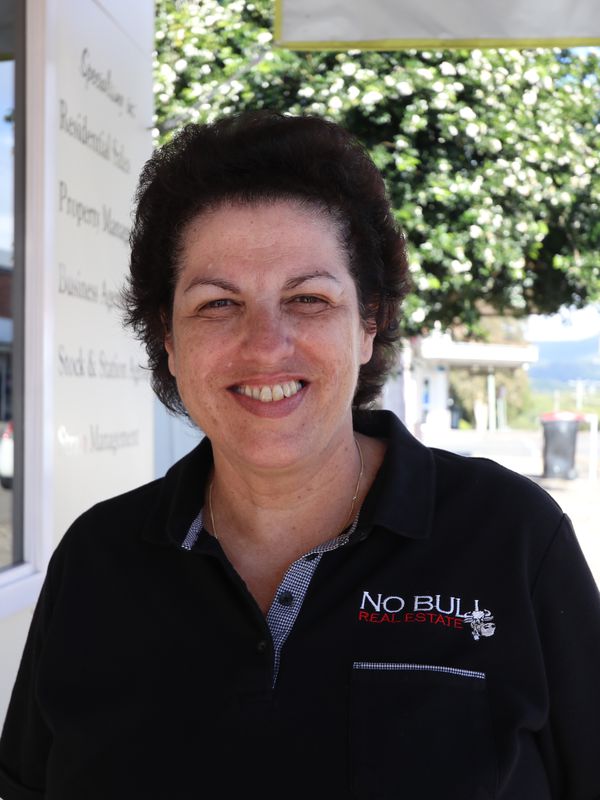 Edith Byrne JP
Licensee
About me
Edith is Licensee and a partner at No Bull Real Estate. Edith is a passionate agent who cares for all her clients, and gets results when it comes to serving sellers, buyers, landlords and tenants. Being a mother of 4 she understands the needs of families and is only too willing to help with all your real estate needs.
Qualifications:
Diploma Business (Real Estate Management)
Cert IV Property Management
Cert IV Residential Sales
Cert IV Workplace Training & Assessment
Licensed Real Estate Agent
Licensed Business Agent
Licensed Stock & Station Agent
Licensed Strata Manager
Member REINSW
Justice Of The Peace
Absolute Legends
My partner and I rented our first home together with No Bull, Edith and John have been absolute legends the entire time. From the process of renting, to ending our lease these guys have been amazing. Whenever something went wrong, Edith and John were there. Every inspection we were greeted with a smile and asked if there's anything that needs attention and fixing. Always polite and happy to answer any questions. Towards the end of the lease there was confusion and Edith and John were happy with any questions I had , being a first time renter I didn't understand much and they were always happy to talk me through things. No Bull have a can do and will do attitude , I recommend them highly! Thank you Edith and John! We'll miss you ! But we'll be back."
- Nikisha-Lee Gardiner
Holmesville
Dear No Bull Real Estate
I have never sold a house before, so it was with some anxiety that I approched Jon and Edith at No Bull Real Estate to arrange to put my house on the market.
They very quickly put me at ease with their professional attitude and it was very evident that they cared for their clients by wanting to do the best they could for them. I always found them very approachable and honest, constantly keeping me up to date and willingly answering my many questions. I would have no hesitation in using No Bull Real Estate again. I would recommend them to anyone who is looking for an honest, professional real estate business.
- Jenny O'Donnell
Awesome Agent
I have rented with Edith at No Bull for over two years, Edith is such a awesome agent to deal with, such a pleasure to have as an agent. Highly recommended to all in the real estate industry.
- Ashley Brown
Branxton
Correct management of our property
We have Know Edith and Jon for the past two years. They have been instrumental in the correct management of our property in Newcastle, always finding us high quality tenants and ensuring our property and the surrounding common areas are well looked after. They have an extremely professional work ethic with strong communication and an in depth knowledge of the property market. They have a warm and friendly persona and are always willing to do or go the extra mile to get you where you need to be in terms of your property investment. They came recommended to us by a work colleague and we would recommend them in a second to anyone requiring a property manager or sales person after taking them on. We would also like to take this opportunity to personally thank Edith and Jon for all of their hard work over the last two years. It is very much appreciated. Many thanks Stephen & Chotima
- Stephen & Chotima
Shortland
Best you will find
In all my dealings with Real Estate Agents, Jon and Edith are the best that you will find. It's a relief to find that there are still wholesome business people about that you can trust your investments with. We have been with them for more than 3 years and have had consistently solid advice, follow up and results. We won't be going anywhere else with our properties!
- Rose French
Metford